OSM, vacation, cross-posted
Sat, Oct 03 2020
vacation mapping 2
Originally posted on 13 January 2020 on OpenStreetMap

View of manhattan southern tip, from empire state building
Home: is it where I sleep each night, or where I dream of? Spectre of globalism, shadow of the coastal elite - I may be angemeldet in Berlin, but New York will always feel something like home. Inevitably, I'm in the city about once a year, frequent enough to keep up friendships, but infrequent enough to inspire nostalgia for the last visit. It's a place perpetually in a simultaneous state of metamorphosis and stasis. Gotham, or Girls? Sex and the city Carrie voiceover: "I couldn't help but wonder, where were all the NYC mappers?"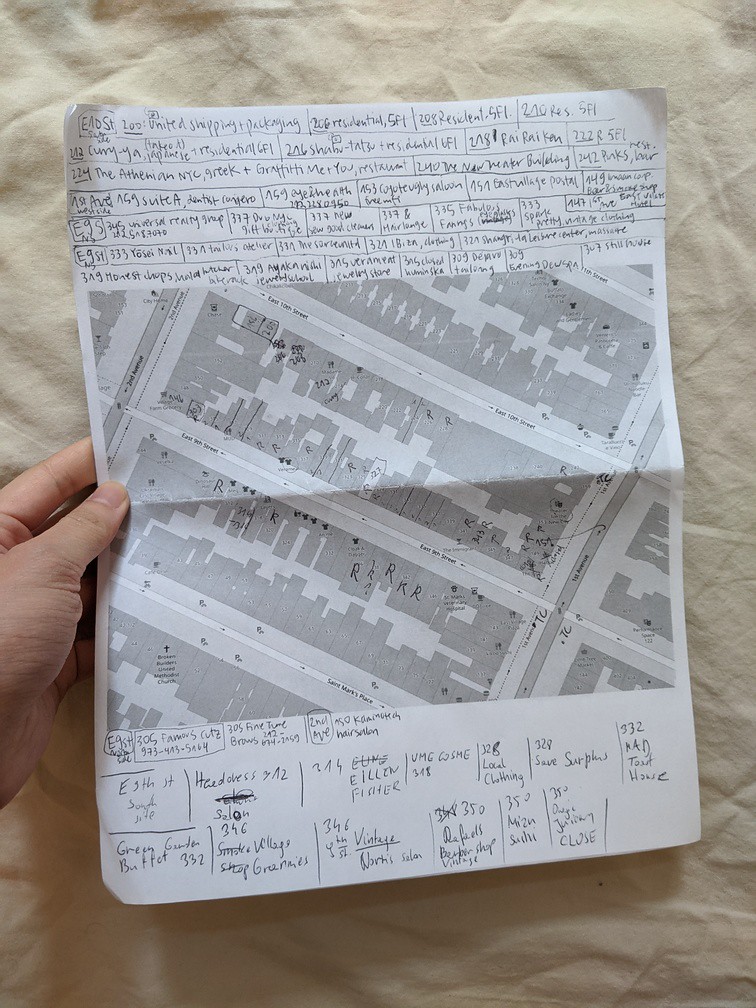 New York on one intersection: a Bank of America, a gay bar, a gourmet pizzeria, a 99c slice joint, a rusting frame chained to the fence, a $2,000 bike in the shop window. But on the map: it's nothing but building=yes and address numbers. A homeless man phones a friend on a LinkNYC terminal, a businessman crosses the street without looking up from his iPhone. They hail a taxis, they wait for the M22. In a city where some people have everything, and some people have nothing, there are more ironic things than the lack of POIs in OSM.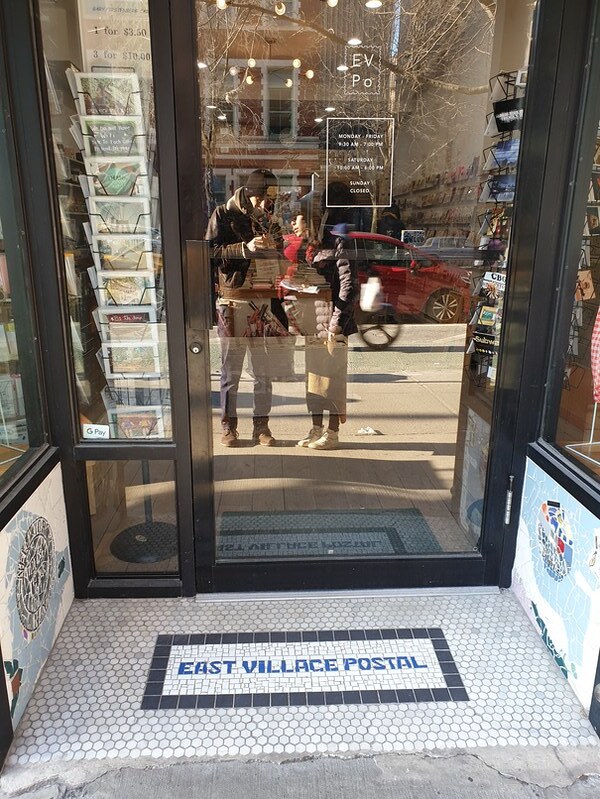 I couldn't find evidence of an official shop=postal, or amenity=shipping, though there are a lot of these kinds of stores!
We chose a sunny day. We printed the screenshots at a FedEx, leaving plenty of blank space in the margins. For the next few hours, we mapped East 9th and 10th streets between 1st and 2nd Ave in the East Village. The system went: for each business not found in the map, write down house number and side of the street. Take a picture of the storefront in case we forget what it is, or to get opening hours.
For a neighborhood that has such an extensive Wikipedia page, a lot of it just looks like empty buildings in the map.
What else about New York…sometimes it's just a blur of faces in the subway, or a looming facade of buildings as you're coming out of the Holland tunnel. But sometimes you can take your time and look in to every store, browse a few things, observe people and guess if they're locals or tourists, like you, just visiting, trying to find what makes this place different from everywhere else.